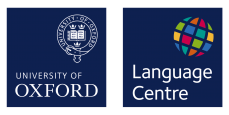 Oxford University Language Centre
The language hub for all Oxford students and staff
Hilary Term course application is open, new applications will automatically join the waiting list and will be contacted if we have availability in class.
LASR / EAS course application - step 1/4
How to apply online:
Welcome to the online course application page. You can apply here for both English and LASR courses for the Academic Year 2017-18. Please have your Bodleian/University card ready if you have one.
Once you have completed the form, you will not need to fill out any paper forms, unless you are making a LASR priority application (details of the extra paperwork needed will be shown once you have submitted).
The course application form asks for Language Centre placement test scores in English, French, German, Italian, Japanese, Portuguese and Spanish and these tests can be found on your course page. They will help to give an indication of your level, and we would appreciate if you took time to take one if you are applying for these languages. They are multiple choice, and should only take a short while to complete.
Places are allocated on a lottery system for both LASR and English courses, and you will be informed by e-mail if you have obtained a place on the courses, so be careful to make sure you give a correct and current e-mail address.
Initial course application for LASR and EAS courses is now closed but online applications can still be made throughout the academic year (October-June) as places do become available each term.
Later applications are put on the waiting list initially, but applicants will be contacted by e-mail if spaces come up in the class.
Please note that priority applications for 2017-18 are now closed.
Please do not register more than once for courses - simply contact the Language Centre in person, at admin@lang.ox.ac.uk or on 01865 283360 and we will update your course application.